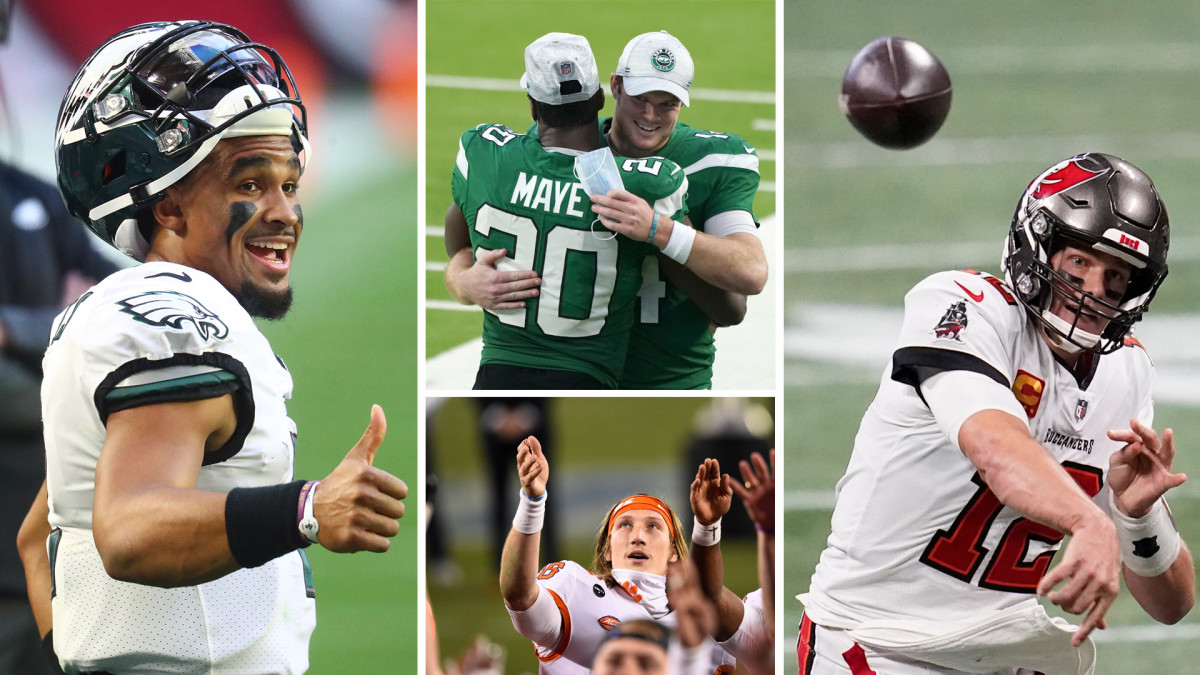 NFL Week 15 Takeaways: A Jets upset, Hurts shines, Brady comeback
Reacting and overreacting to everything that happened in the Week 15 Sunday afternoon games…
Things That Made Me Giddy
Jets Get on the Board: Going 0-16 is a stink that never washes off; this is a good thing for every member of that organization and their fanbase. And they can spend the offseason weighing the three second-tier quarterbacks (Ohio State's Justin Fields, North Dakota State's Trey Lance and BYU's Zach Wilson) on their artificially cheap rookie deals against bookending Mekhi Becton with Penei Sewell as the best young OT tandem in football to go with Darnold in the final year of his rookie deal.
Marcus Maye Has No Interest in Trevor Lawrence: This is a do-or-die pass breakup on fourth-and-4 to preserve a three-point lead late in the fourth. It was the final play the Rams offense ran.
Brady, Bucs Back From the Brink: After a listless first half that saw them fall behind 17-0 in Atlanta, Brady led three third-quarter touchdown drives, facing just two third downs along the way. Eventually, Tampa put up 31 second-half points in a comeback win. Brady ended up throwing for 390 on the day, his highest passing yard total since Super Bowl LII.
Mahomes Closes It Out With His Arm: As expected, at this point, with a play-action connection with Travis Kelce on second-and-long on the first play after the two-minute warning.
Saints Pass Rush Batters Mahomes: The Chiefs' misdirection keeps defenses on their heels just enough, and that might have been the only thing keeping Mahomes in one piece on Sunday. 
Darius Leonard Saves Christmas: With a game-clinching punchout on Keke Coutee on a play that would have, if not resulted in a touchdown, set up a first-and-goal for Houston with the Colts clinging to a seven-point lead.
Jalen Hurts Is Starting to Pull Away With This Thing: Right now, at the very least, the Eagles are set up for a quarterback competition next summer (which Carson Wentz may or may not be willing to participate in). Hurts is still shaky in the passing game, firing dangerously high on a couple of throws that could have ended in disaster. But that was expected—he made strides between his first and second starts, and that's what is important.
Dolphins Gut One Out: Tua was without any NFL-caliber receivers on the outside, relying on his tight ends and a lot of Lynn Bowden. He threw an unforgivable red-zone interception in the first quarter, but other than that managed the game properly, scrambled for a third-and-goal TD later on, and let the run game do its thing to the tune of 250 rushing yards on 42 attempts.
Mitchell Trubisky Putting Out Some Pretty Good Tape: The quarterback-coach marriage didn't work in Chicago, and there's no realistic scenario where Trubisky can return to the Bears (if Matt Nagy stays he'll want a new QB, and if Nagy is let go no new head coach is keeping Trubisky as his guy). But it would be interesting to see him in a highly schemed Kubiak/Stefanski/Shanahan-style offense and, after a year or two as a backup, see if he can carve out a Tannehill-type second act.
Tony Pollard as Kyra Sedgwick in The Closer: This was while protecting a three-point lead, on second-and-4 with 2:36 left. Getting the fulltime role with Ezekiel Elliott out, Pollard went for 132 yards from scrimmage and two touchdowns on 18 touches.
Cario Santos: Remember all this silliness? Turns out all the Bears had to do was find a good kicker and agree to pay him money in exchange for his services. Santos went 4-for-4 at Minnesota on Sunday, has made 22 field-goal attempts in a row and is 25-for-27 on the year.
Younghoe Koo Is the New King of 50-Plus: His 52-yarder to go ahead midway through the fourth quarter in Atlanta made it 8-for-8 on the season.
Adam Thielen in the Red Zone: His 12th red-zone TD of the season brings him within two of Randy Moss's single-season red-zone TD catch record (14, with the 2007 Patriots). Will he get there? The world will be watching.
Dez Bryant Throws Up the X: He's had a rough couple of weeks, so catching his first touchdown in more than three years is a nice moment for him, and the nostalgia of it all makes it a nice moment for us. And that's the real meaning of Christmas.
Matthew Stafford, Still Doing His Thing: As has often been the case for the past decade, he was the only thing keeping the Lions competitive as he threw for 252 and a touchdown in Nashville while playing with torn cartilage in his rib cage. Former Lions GM Bob Quinn, who dismantled this roster in a way that will take years to recover from, should volunteer to donate his full salary from his tenure to a charity of Stafford's choice—it's the right thing to do.
* * *
Regrets
The Rams' Lack of Urgency: We saw it in both losses to the 49ers as well—the Rams fell behind and just didn't really adjust to the game situation. I'm not saying I know better than Sean McVay (as a matter of fact, I most certainly do not), but when you're trailing an inferior team by multiple possessions, pick up the tempo and extend the game. Also, on Sunday, down three, they got into a third-and-4 on the edge of field-goal range and asked Jared Goff to deliver low-percentage throws on back-to-back plays, both falling incomplete. The defense had two chances to get a stop, couldn't, and that was it.
McVay Swept by the AFC East Teams He'd Never Seen: I don't know why that feels significant, because it certainly is not. But this season McVay went 1-3 against the AFC East, beating the Patriots in a Super Bowl LIII rematch while losing in his first-ever meetings with Buffalo, Miami and the Jets. 
Trevor Lawrence, Jacksonville-Bound: He must be thrilled at the prospect of playing for a real player-friendly organization. And if he makes a couple Pro Bowls in his first four seasons they might even consider giving him a second contract! (That's my snarky way of saying I remain perplexed by anyone arguing that Jacksonville, based on their pattern of mismanagement and mistreatment of players over the past three years, is a better landing spot than the Jets.)
Falcons With a Lead, Part VIII: The combination of what they've done this season and the fact that it was Tom Brady on the other sideline… this 17-point second-half blown lead just felt a little too on-the-nose.
Saints Offense Not in Sync: They had an impressive drive late, but Brees looked rusty early on, and 1-for-11 on third down isn't going to get it done against the Chiefs.
A Soft Ejection for Cam Jordan: I second this tweet—this is not an unusual exchange between blocker and defender:
The Patriots' Run Defense: Yes, they need to address the quarterback situation, but my goodness has this defense struggled since losing their linebackers. Ten days after allowing 186 rushing yards to the Rams, they gave up 250 in Miami, the most they've allowed since November 2013 (280 to Denver) and the fourth-most a Belichick Patriots defense has ever given up.
Dwayne Haskins Does His Best Alex Smith Impression for Three Quarters: The Football Team has opted out of offensive football in the second half of the season; it has somehow worked out but it remains a narrow path to victory. On Sunday, against a historically bad Seahawks defense, Haskins just checked it down, checked it down, checked it down as their deficit grew and the defense was unable to deliver the game-altering plays they have provided the past few weeks. Playing the field position game doesn't work when you're down 17, but it's hard to blame Haskins since they benched him in favor of the quarterback who does just that. If you're going to choose that approach on offense that's up to the coaching staff and the organization, but for the sake of the talented young quarterback, send him to another organization.
Patrick Peterson Can't Keep Up With Alshon Jeffery?: No shame in that circa 2014, but in late 2020?
Pobody's Nerfect, Even Jason Sanders: The Dolphins kicker proves that in some ways he's just like us, missing 50-yard field goals just like we do. He had been 8-for-8 from 50-plus on the season before pulling a 52-yarder just wide left at the end of the first half.
Tua's Red-Zone Interception: This is alarmingly bad quarterbacking. If this ball comes out on time it's a touchdown—J.C. Jackson hesitates because of the traffic. I'm not sure if this is a matter of Tua not being able to see Lynn Bowden or not being able to find a throwing lane, but either way it's a product of managing the pocket very, very poorly. Once he fails to get it out, that throw is no longer available—in no world would it ever be available that late in the down. So Tua makes things significantly worse by forcing a throw when there's a 99% chance this will be the result. The first mistake cost Miami four points, the second cost them the remaining three. There are young quarterback mistakes you can live with, but this is not one of them.
Stephon Gilmore Goes Down: It was non-contact but also looked like it might have been a matter of hitting a bad patch of turf. Either way, it's an incredibly tough break for a 30-year-old corner in what's essentially a contract year.
Deshaun Watson as Sisyphus: For the second time in December, he took this crummy Texans team within two yards of an upset against the Colts, only to have a teammate's mishap send the boulder tumbling back down the mountain. Watson threw for 373 and 9.1 yards per attempt in the narrow loss. For his sake, hopefully the owner awakens from his long slumber soon.
* * *
Moments We'll Tell Our Grandkids About
DeMarcus Robinson Gives the Saints the Gift of Seven Points: But Alex Anzalone donates five of those points to charity (probably The Human Fund).
Tyre Phillips Yards After Contact:
Andy Lee's Touch Over the Linebacker Level: That's a nifty throw for anyone, let alone a 38-year-old punter.
The Fundamentals, Like a Good Chest Pass: John Wooden would be proud…
Tom Brady to Antonio Brown for the First Time in 15 Months: Two guys who have learned a valuable lesson on their journey together: Feel free to treat others however you want, because scoring points in football games is the only true measure of a person. A real feel-no-particular-emotion moment here…
* * *
What We'll Be Talking About This Week
Now Are the Bucs Ready to Play?: After a humiliating first half in Atlanta, following up a series of lackluster performances, the offense got it going. We've seen them carve up defenses short on talent before, like when they scored at will in Carolina, only to disappear for long stretches in following weeks. They'll get tune-ups against a Detroit defense that can't stop anyone, then Atlanta again, before the postseason arrives.
Ravens Still Need Help: They'd be one of the best teams to ever miss the postseason—even more stunning in a year of playoff expansion. The Ravens will likely get to 11-5 with the Giants at home and at Cincinnati left on the schedule. But even in that scenario, they still need the Colts (at PIT, vs. JAX), Dolphins (at LV, at BUF) or Browns (at NYG Sunday night, at NYJ, vs. PIT) to trip up once.
The Bears Are Very Much Alive: With back-to-back wins, they're now back to .500 with a trip to Jacksonville coming up. And while Chicago hosts the Packers Week 17, it might be a heavy dose of Tim Boyle in that game as Green Bay could clinch the No. 1 seed in Week 16. In all likelihood, the tiebreaker with Arizona will go to the Bears (they didn't play head-to-head, would finish with the same conference record if they are tied, and Chicago has the better record against common opponents). That's a long way of saying: If the Bears win out, and the Cardinals lose to the 49ers at home or Rams on the road, the Bears will make the playoffs.
A Patriots-Less Postseason: It's official, with the loss in Miami knocking them out of postseason contention. Now we have three months to discuss how they'll fix this defense and address the quarterback position and dearth of passing-game weapons.
Derrick Henry In the Year 2,000: He still needs 321 over the final two weeks, which is attainable but seems unwise considering playoff games are still to be played.
Carson Wentz's Lack of Holiday Cheer: I'm not sure why it's a headline that he didn't like being benched less than a year after single-handedly dragging this lifeless corpse of an offense to the postseason. Or that he didn't like being made to play behind an offensive line that can't block, with receivers who can't catch, in a unit full of players who didn't know the plays. Or that he watched the coaching staff, after turning to Jalen Hurts, immediately pivot to the kind of run-heavy, read-option approach they should have gone to weeks ago. Wentz's play in 2020 was indefensible, but we might never see a quarterback get less support from a coaching staff, front office and surrounding cast than he did the past two seasons.
• Question or comment? Email us.