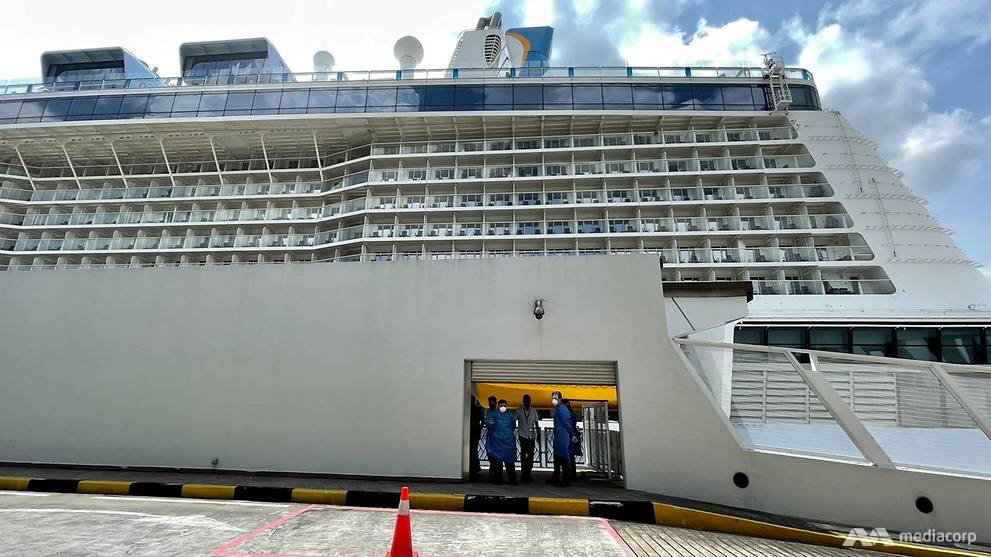 Passenger on Royal Caribbean cruise tests positive for COVID-19, ship returns to Singapore
SINGAPORE: A passenger on board a Royal Caribbean vessel tested positive for COVID-19 during a cruise to nowhere, prompting the ship to return to Singapore on Wednesday (Dec 9), a day ahead of schedule.
The case was detected on board the Quantum of the Seas ship, which began sailing again this month as part of a pilot scheme that allows round-trips with no ports of call.
The passenger, who is 83 years old, reported to the medical centre on board the ship with diarrhoea symptoms. He then underwent a polymerase chain reaction (PCR) test as part of the on-board protocols, said Ms Annie Chang, Singapore Tourism Board's (STB) director for cruise development.
Prior to boarding the ship on Monday, all 1,680 passengers and 1,148 crew members had cleared a mandatory PCR test for COVID-19, she said.
The passenger was immediately isolated after testing positive and his initial close contacts were identified and isolated. These close contacts have since tested negative following PCR testing and further contact tracing is ongoing. 
Crew members who had close contact with the passenger were also identified, isolated and subsequently tested negative for COVID-19, Royal Caribbean said in a statement.
READ: After COVID-19 case, Quantum of the Seas cruise scheduled for Dec 10 to go ahead: Royal Caribbean
"All on-board leisure activities also ceased immediately and passengers were asked to stay in their cabins," said STB's Ms Chang.
"The remaining passengers and crew will remain on board in their rooms until contact tracing is complete. They will all undergo mandatory COVID-19 testing before leaving the terminal, as per the regular post-arrival protocols."
In the meantime, passengers are being given regular updates and meals are provided directly to their rooms, she added.
Royal Caribbean said in its statement that the case shows that protocols are working as planned.
"We worked closely with the Government to develop a thorough system that tests and monitors all guests and crew and follows public health best practices," it said.
"That we were able to quickly identify this single case and take immediate action is a sign that the system is working as it was designed to do."
An ambulance and a man clad in in personal protective equipment were seen at the front of an entrance to the ship at about 2.15pm.
Trade and Industry Minister Chan Chun Sing told reporters on Wednesday that the Government was prepared for this and had protocols in place to deal with COVID-19 cases on cruise ships.
"That's why it's important for us to have a protocol to make sure that if something like that happens, we are able to contact trace quickly, isolate the cases necessary, and for the rest of the activities to continue," he said.
READ: Royal Caribbean COVID-19 case 'not unexpected', Government prepared for it: Chan Chun Sing
The Ministry of Health (MOH) on Wednesday issued an advisory to passengers, telling them to monitor their health for 14 days from the date of disembarkation as a precautionary measure. 
All passengers will be required to undergo a swab test at the end of the monitoring period. During this period, they may continue with their usual activities including going to work or school. 
"Royal Caribbean Cruises will contact you from a week after disembarkation with the details of your swab appointment at a designated Government swab site," said MOH, adding that the ministry will bear the cost of the swab tests. 
One passenger, Madam Adeline Tan, told CNA that passengers were originally told to wait for an announcement at 11am. They were later told to wait for an announcement that would be made in the afternoon.
However, at 3pm, passengers were again told to wait for a later announcement, this time at 7pm, said the 56-year-old. The afternoon announcement also said dinner would be served at 5pm. 
Mdm Tan said it was unclear when passengers would be able to disembark, adding she thought they would probably be there "the whole day".   
The air in her cabin had also become less fresh although they had a balcony as the air-conditioning was not as cold anymore, she said. 
READ: 'Definitely I'll go again': Some Royal Caribbean passengers say no regrets going on cruise that was cut short by COVID-19 case
ROYAL CARIBBEAN STARTED SAILING IN DECEMBER
In October, STB announced that two cruise lines – Genting and Royal Caribbean – will resume cruises at a maximum capacity of 50 per cent.
Cruises are required to comply with safe management measures, such as social distancing and mask-wearing.
Regular inspections will also be conducted on board to ensure compliance. Cruise lines found to be non-compliant will be subjected to penalties, including fines, suspension of sailings and revocation of their CruiseSafe certification, which is required for all cruise lines sailing out of Singapore.
Royal Caribbean's Quantum of the Seas vessel started sailing for three- and four-night cruises from Dec 1.
The vessel features an upgraded heating, ventilation and air conditioning system, which will continuously supply "100 per cent fresh, filtered air" from outside the ship to replace used air on board", the cruise line said.
READ: 2 cruise lines allowed to offer Singapore residents 'cruises to nowhere' from November
READ: Genting Cruise Lines to hire Singaporeans for ship World Dream as cruises prepare to set sail again
STB also outlined in October the measures in place should a COVID-19 case be detected on board a vessel, saying that affected passengers, crew and their close contacts would be immediately isolated.
"Deep cleaning on board the ship will be carried out in accordance with guidelines, and leisure activities on-board will cease immediately," Ms Chang told CNA on Oct 8.
She added that COVID-19 tests are able to be carried out on board cruise ships.
With short itineraries and no port of calls, "the likelihood of an outbreak is assessed to be low given that all passengers and crew are tested".
"With the appropriate … measures in place, such cruises are no less safe compared to other activities and settings that have since resumed," Ms Chang said.
"Contingency plans are in place in the unlikely event of an outbreak and this includes the ship returning to Singapore so passengers can disembark and medical support can be provided immediately if necessary."
READ: 12 new COVID-19 cases in Singapore, all imported
Royal Caribbean is also providing "COVID-19 protection" to passengers, including 100 per cent credit towards a future cruise, in the event of a guest or any member of their travel party test positive for COVID-19 in the three weeks prior to their booking.
Full refunds will also be provided if a guest, or any member of their travel party, tests positive during the cruise, it added.
Singapore has reported a total of 58,291 COVID-19 cases as of Wednesday.
Additional reporting by Rachel Phua.
BOOKMARK THIS: Our comprehensive coverage of the coronavirus outbreak and its developments
Download our app or subscribe to our Telegram channel for the latest updates on the coronavirus outbreak: https://cna.asia/telegram​​​​​​