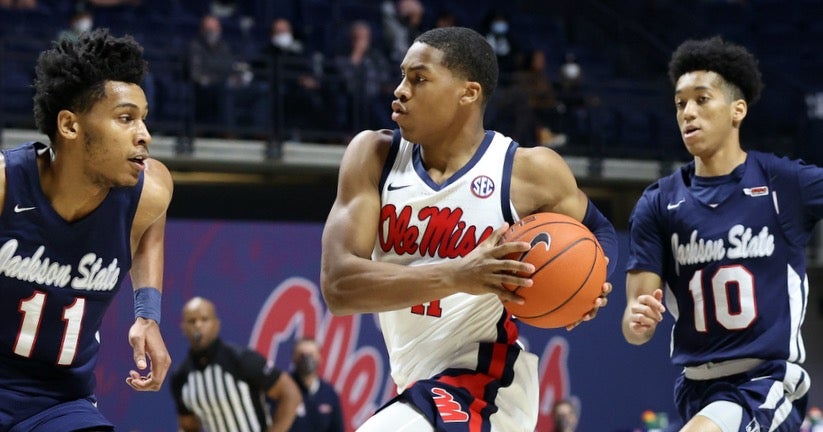 Ole Miss travels to Alabama to open SEC play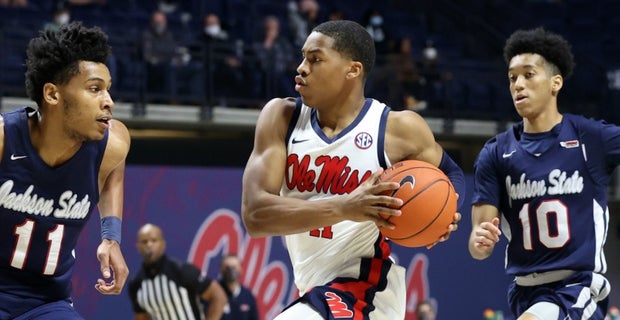 Matthew Murrell has never lacked for confidence.
He couldn't have gotten off to a slower offensive start to his Ole Miss career. Through the first five games, he was converting just 20 percent (4-20) of his field goal attempts. He was 1 for 9 from three.
However, the freshman guard was undeterred. He kept firing up shots as if all was well and he had the greenest of green lights. But such is to be expected of Murrell, the highest-ranked signee in school history, who was previously ranked as the No. 39 player in the country by 247Sports. He was brought in to shoot, and shoot he has.
His persistence was rewarded in a 90-43 win over UT Martin last week. Murrell scored 13 points in 24 minutes, by far his best marks in both categories so far. He was 3 for 5 in three-pointers.
"He'll do that plenty more times here," third-year head coach Kermit Davis said. "We just keep encouraging Matt. He's an elite shooter. I think he's got a really good mid-range game. He's athletic at the rim. We've talked about him getting more paint touches and being athletic at the rim and get himself to the line."
"It was a good feeling," Murrell said. "My teammates and the coaches steadily had confidence in me. It was a good feeling to see it go through the rim. Coach Davis was just telling me to keep playing hard, keep being sound defensively and the shots are going to come."
The Rebels have the nation's best scoring defense (52.7 points per game). They're sixth in turnovers forced (20.5) and 13th in turnover margin (+6.0). They're limiting opponents to a 35.6 field goal percentage, which is eighth in college basketball.
But their offense has been uneven. While their low-post production has drastically improved with the addition of Arizona State transfer Romello White, among others, they're No. 12 of 14 SEC teams in three-point field-goal percentage (28.8), and that's factoring in their season-best 40.9 percent performance against UT Martin. They were 6 for 11 in the first half.
Suffice to say, there's room for improvement, namely from distance. Few players have more upside or are better suited to step up and help than Murrell. He'll keep getting his chances. Next up is a road trip to Alabama on Tuesday to open SEC play. The Rebels and Crimson Tide tip off at 8 p.m. CT on SEC Network.
"I feel good," Murrell said. "This is like AAU. You play a bunch of games over a short period of time. I feel like I've adjusted pretty well. I think IMG prepared me for the schedule. I feel like I've adjusted well."
Television: SEC Network

Dave Neal, play-by-play
Daymeon Fishback, analyst
Radio: Ole Miss Sports Network (XM-380, Internet-970)
David Kellum, play-by-play
Marc Dukes, analyst
Live Video: ESPN.com/ESPN app
Live Audio: OleMissSports.com/TuneIn app
Courtesy Ole Miss Sports Information
— Ole Miss enters Tuesday's conference opener with the nation's best scoring defense (52.7 ppg).
— The Rebels have allowed the fewest points (316) over their first six games since the 1980-81 season (307).

— Ole Miss starts SEC play on the road for the third straight season (have never opened at home under Kermit Davis), including the eighth time in the past 11 years. Over the past three decades, 21 of the 30 SEC openers have been road contests.

— Ole Miss is the only team in the SEC to play multiple true road games to this point of the season.

— The Rebels are coming off a 90-43 win over UT Martin (Dec. 22), their largest margin of victory since a 92-45 victory over Morris Brown (Nov. 28, 2001).

— Ole Miss leads the SEC in turnovers forced (20.5 per game) and field goal percentage defense (35.6), ranking sixth and eighth nationally, respectively.

— Averaging 2.0 steals per game, Devontae Shuler ranks second in the SEC. Shuler has 154 career steals to rank eighth in program history alongside Rod Barnes (Ole Miss All-American and former Rebel head coach). Shuler is one away from Elston Turner (155) for seventh and three away from Joe Ayers (157) for sixth.
— Devontae Shuler and Romello White are both four points away from 1,000 for their respective careers.
— Opponents have shot a combined 27.9 percent (41 of 147) against Ole Miss in the first half, scoring only an average of 19.7 points. The Rebels have kept the opposition to single digits on made first half field goals in all six games this season.
"I sure hope so. I think we shot some of the same shots, (but) we did get out in offensive transition a little bit better, and I think no matter who you are, when you get into league play, everybody's looking for easy baskets, either off of live-ball turnovers or offensive transition. Not trying to play against the great scouting and half-court defenses possession after possession. Our guys have shot it good in practice the last couple of days. Hopefully it does translate." — Ole Miss head coach Kermit Davis, on whether the Rebels received a confidence boost offensively in the win over UT Martin
Alabama enters Tuesday's opener with a 5-3 record following an 85-69 win over East Tennessee State (Dec. 22) … Hosting the Rebels, the Crimson Tide conclude a four-game home stand … Alabama leads the SEC in three-point field goal attempts (242), averaging more than 30 per game … Jaden Shackelford, the Crimson Tide's leading scorer at 14.0 ppg, also paces the conference with 19 made threes this season … Alabama has three others averaging double figures in scoring: Herbert Jones (13.3 ppg), John Petty Jr. (12.0 ppg) and Jahvon Quinerly (11.8 ppg); Jones leads the team in rebounding (6.8 per game), while Quinerly is the team's assist leader (3.6 per game) … Nate Oats is in his second season as Alabama head coach after spending four seasons as the head coach at Buffalo … Will be the 182nd meeting between the two schools … The Crimson Tide holds a 123-58 lead in the series, which began in 1921 … Alabama has won five of the past six, including three straight … Prior to that streak, it was Ole Miss that took four of five … Last season, Alabama snapped a six-game losing streak in Oxford.
Arkansas | 0-0 | 8-0
Georgia | 0-0 | 7-0
Missouri | 0-0 | 6-0
Tennessee | 0-0 | 6-0
LSU | 0-0 | 5-1
Ole Miss | 0-0 | 5-1
Texas A&M | 0-0 | 5-1
Auburn | 0-0 | 6-2
Florida | 0-0 | 3-1

Vanderbilt | 0-0 | 4-2
Alabama | 0-0 | 5-3
Mississippi State | 0-0 | 5-3
South Carolina | 0-0 | 1-2
Kentucky | 0-0 | 1-6
Texas A&M at LSU | 6 p.m. CT | SEC Network
South Carolina at Kentucky | PPD | ESPN2
Ole Miss at Alabama | 9 p.m. CT | SEC Network