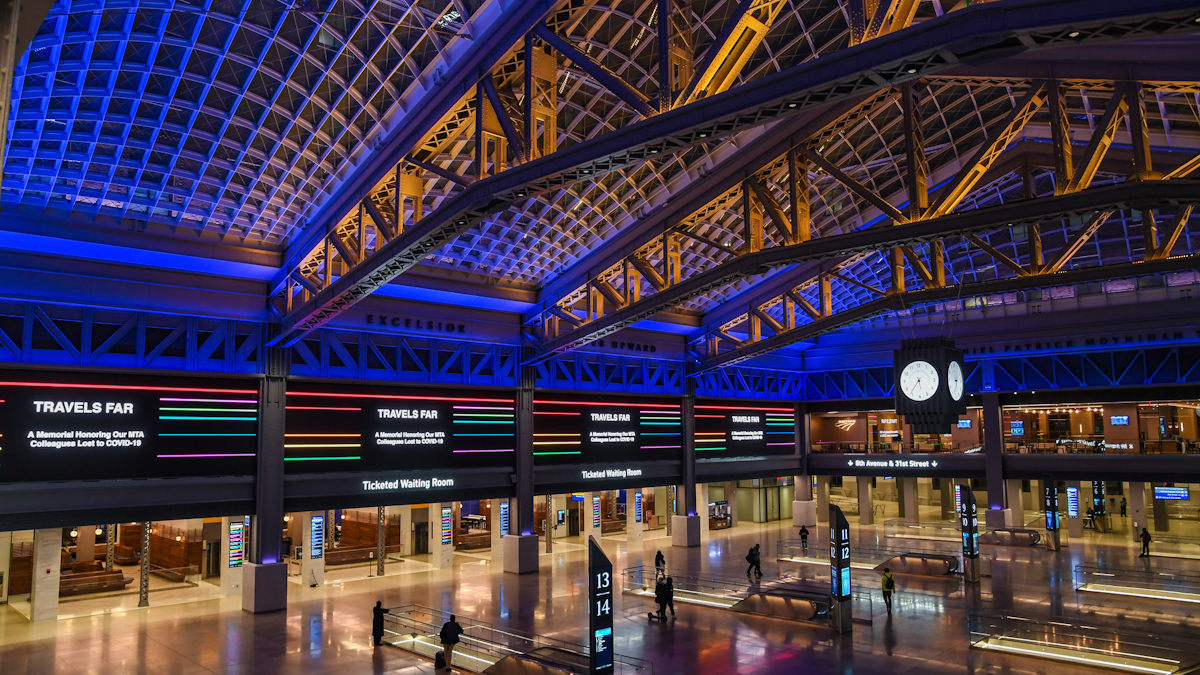 MTA expands TRAVELS Significantly memorial for MTA personnel misplaced to COVID-19 to regional railroad network
TRAVELS Much, a memorial introduced by the Metropolitan Transportation Authority (MTA) Arts & Design to
TRAVELS Much, a memorial introduced by the Metropolitan Transportation Authority (MTA) Arts & Design to honor the 136 MTA workers lost to COVID-19, has expanded to Grand Central Terminal, Moynihan Coach Hall and One Vanderbilt Transit Hall.
"COVID-19 has been a devastating scourge on our complete nation and, tragically, that consists of the MTA's workforce," mentioned MTA Chairman and CEO Patrick J. Foye. "We rapidly produced guaranteed that those people families who lost an MTA employee to COVID had been taken treatment of financially, but the launch of this memorial is aimed at personalizing the legacies of those people who died for the duration of the pandemic. It is a transferring tribute to the customers of our heroic workforce who misplaced their life and we will continue on to make confident all those who perished are not forgotten."
The visual appeal of the memorial on the significant informational 'Big Boards' at Grand Central Terminal, synchronized to the Terminal's P.A. program, is a historic initially. This was orchestrated to appear simultaneously with the memorial remaining proven at 107 subway stations, the huge new electronic screens adorning Moynihan Prepare Hall and on screens in the Transit Corridor of A single Vanderbilt. The pictures, set to a backdrop of the MTA loved ones of colours, are accompanied by "TRAVELS Considerably," a poem by Tracy K. Smith, the previous U.S. Poet Laureate who was commissioned for this job. The memorial appears 3 moments for each working day, at 10:30 a.m., 2:30 p.m. and 8:30 p.m.
"This memorial is an crucial possibility for all New Yorkers to get a instant to pay out their respects and honor member of our heroic NYC Transit family," said New York Town Transit Interim President Sarah Feinberg. "Expanding the amount of areas where individuals can perspective the memorial – significantly to historic, wonderful landmarks like Grand Central Terminal and Moynihan Practice Hall, indicate even more New Yorkers can take part."
 The memorial debuted on Jan. 25, showing as an eight-moment online video managing on 138 3-panel electronic screens at 107 subway stations. The "TRAVELS FAR" memorial is accompanied by an original score of the same title by composer Christopher Thompson and will run day-to-day through Feb. 7.
"The loss of these MTA heroes to COVID-19 is a profound tragedy," reported Metro-North President Catherine Rinaldi. "Expanding this wonderful tribute to historic Grand Central Terminal is a person more way to honor the life of those people that we have shed."
"We will by no means overlook individuals we misplaced to this tragic pandemic and honoring them is just one particular modest way we can mend," said LIRR President Phil Eng. "I'm so proud to have labored with them and getting able to benefit from the outstanding new Moynihan Practice Hall to honor our MTA relatives is a great symbol of their heroic attempts."