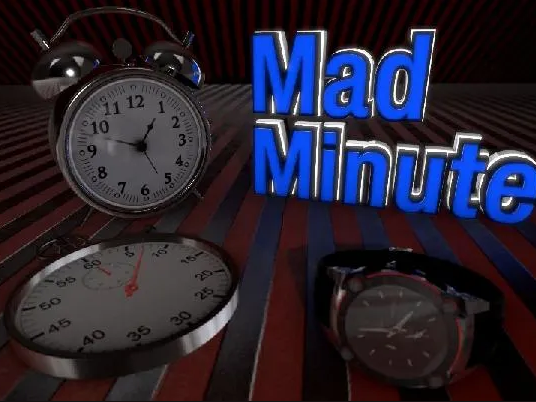 Mad Minute stories from Wednesday, November 25th | National
SAUGERTIES, N.Y. (AP) — Rocky the stowaway owl is back in the wild.
The tiny Saw-whet owl was named Rockefeller after it was found by a worker setting up the holiday tree Nov. 16 at Manhattan's Rockefeller Center. The owl was apparently trapped in the 75-foot-tall (23-meter-tall) Norway spruce when it was cut down 170 miles (275 kilometers) north, in upstate New York on Nov. 12.
The female owl, initially thought to be male, was uninjured but hadn't eaten for at least three days when she was discovered and sent to Ravensbeard Wildlife Center in the Hudson Valley town of Saugerties. There, a rehabilitator nursed her back to health for a week with plenty of mice before Rocky was cleared to continue her migratory journey south.
On Tuesday evening, rehabilitator Ellen Kalish held the winsome raptor aloft in a field against a backdrop of rounded mountains. In a video posted on Ravensbeard's Facebook page, Rocky sits quietly on Kalish's fingers before winging her way over to a nearby grove of pines.
"She is a tough little bird and we're happy to see her back in her natural habitat," the center wrote on Facebook. "We are sure that Rocky will feel your love and support through her journey south."
—————————————————————————————————-
FRANKFURT, Nov 25 (Reuters) – The owner of a Frankfurt restaurant is staging a protest against the coronavirus lockdown in Germany by filling his tables with a hundred stuffed toy pandas, in a play on the word "pandemic."
German officials are expected on Wednesday to agree to extend until Dec. 20 a "lockdown light" they imposed on Nov. 2 that means bars, restaurants and entertainment venues must stay closed, while shops and schools can remain open.
"We wanted to put some life back into our restaurant," said Guiseppe Fichera, manager of restaurant Pino. "They are Panda-Mic pandas."
The pandas are seated at the restaurant's tables and propped up at the bar, some with bottles of Corona beer.
"It is a silent protest. An offer to our guests," Fichera said, adding he would keep the lights on all day and night as long as the lockdown lasts so passersby can enjoy the display.
The German government has said it will extend financial aid for firms hit by the restrictions, which, according to sources, could add up to 20 billion euros ($23.81 billion) in December, in addition to an estimated 10-15 billion in November.
—————————————————————————————————-
(Huffington Post) This holiday season, beloved coffee chain Dunkin' decided to sell a branded bicycle — and it took me for a ride.
The company formerly known as Dunkin' Donuts has rolled out a line of merchandise emblazoned with its iconic orange and pink logo. Items ranged from the expected — hoodies and jogger sweatpants — to the less conventional — a dog leash and a duvet cover, for example.
Then there was the $500 tandem bicycle.
Online reactions to the unusual offering ranged from enthusiasm to befuddlement — especially as the bike remained available for purchase after other, perhaps more practical, Dunkin' merch sold out.
The product description promises the bike to be "insanely fun" and "easy-riding," but offers little else in the way of specifications. There's no info on size, weight or gearing — details you'd hope to have before deciding to slap down a cool half-grand in the name of coffee brand loyalty.
The more I looked at the bike, the less I understood. While I've never ridden a tandem bike myself, I've seen a handful in my lifetime, and something about the Dunkin' one didn't add up. Could the back rider sit on it without tipping the whole thing backward? Did it make sense to have the back pedals on top of the derailleur? Was this really just a single-rider frame with some extras haphazardly welded on?
As GearJunkie's Adam Ruggerio put it: "It reminds us of those renderings of bikes drawn from memory. They look almost rideable, just not quite — kind of like if M.C. Escher was a frame welder."
The $500 price tag also seemed low for a tandem — or "sketchy as hell," as one Reddit user on the site's r/bikeboston forum wrote. A bicycle built for two can easily cost upward of a thousand dollars, like Trek's $1,359.99 bike or Co-Motion's $2,995.00 model.
But one cannot write a tandem takedown on assumptions alone. I reached out to bike experts.
"At first glance at this photo, this is not a tandem that is rideable," said Zoe, a longtime salesperson at WheelWorks bike shop in Belmont, Massachusetts, who declined to give a last name. "The rear end of the bike is totally wrong, from the crank to the double chain, and we would not guess that it can work with the physics of this planet."
The price, Zoe added, seemed low — "most single bikes start at about $500 — a two-person would start at four figures at minimum."
"I've never seen anything like this," said Kevin McCutcheon, owner of Tandem Cycle Works in Denver, via email. The rear seat's position behind the rear wheel, he said, would make handling the bike difficult and possibly unsafe.
"In my opinion, this design would make rider weight distribution such that the front end could be very light and the steering could be potentially less than responsive," McCutcheon said.
While the balance might be an issue, McCutcheon said he could see how the bike could work from a mechanical standpoint.
"There are two chains on the bike, which is normal on a tandem: the right side chain is the drive side where the gears can b changed, the left side is the timing side, where the chain connects the two riders together to keep them synchronized and pedaling in unison," McCutcheon said.
Still, he pointed out that the timing chain going to the rear pedals and rear wheel was "odd." Without being able to see the bike from the other side, however, he wasn't able to determine exactly how it might work.
It was difficult to find a tandem bike for sale that resembled the Dunkin' bike — suspicions confirmed by bike sellers I contacted. But it wasn't the only one out there. A search for "tandem bike" turns up an image of this white model that looks identical to the Dunkin' one.
I reached out to Macdeonia-based photographer Ljupco Smokovski, who created the stock image seen above, to ask whether the bike was real. In an email, he confirmed that it is a photograph of a real bicycle, albeit a unique one.
"Nothing is photoshopped," Smokovski said. "It is a custom-made bike that we borrowed for a shoot from a friend of a friend who has ridden it and still rides it with a partner." So, if Dunkin' is selling a bike, it likely isn't this exact one.
"How it came to be offered for sale by Dunkin Donuts I really have no idea," Smokovski added.
When I reached out to Dunkin' for more information, an outside public relations representative sent me specs on the "Micargi Sport tandem," which features a Shimano derailleur, shifters, and 7-speed freewheel. It weighs 60 pounds and measures 81 by 27 by 7 inches. Measurements seemed promising — it meant there was a physical thing to be measured.
The rep said Dunkin' began fulfilling orders on Nov. 23, and provided an additional photo of the bicycle.
A breakthrough! Another photo of the bike was what I needed, proof the mechanical wonder was indeed real and not just a cursed fever dream of 2020. I opened up the link.
It was an entirely different bike.
This just led to more questions: If this was the version of the bike that Dunkin' customers would receive, then what was the clearly different one doing on its website? Why bother mocking up two bikes at all? Why can't we just have nice things — among those an uncomplicated, simultaneously niche and outlandish gift for iced cappuccino devotees?
If this were the image on Dunkin's online shop to begin with, I might not have started this mystifying journey at all. Shoddy photo-editing notwithstanding, this version is at least less brain-breaking to envision in our physical world, with a longer frame, higher handlebars and additional space between the rear pedals and the rear wheel. It looks like a tandem bike. I could actually picture two people riding this down a sun-dappled street to pick up a to-go cold brew order without imminent risk of bodily harm.
Googling "Micargi sport tandem" shows the same bike for sale on ChubbysBikes.com for $499.00. It can also be found on the Micargi brand website, although it's sold out.
It's unclear why Dunkin' chose to use a different photo to advertise its bike. The company's spokesperson responded to follow-up questions by directing me to the original photo that started it all.
But it is somewhat reassuring to think that anyone who adds the mythic Dunkin' bike to their cart will hopefully, 10 or 15 business days down the line, receive a rideable bike instead of the confounding model advertised on its site.
And if the Dunkin' model is being sold for just $1 more than a generic equivalent, some fans might find it worth the splurge. After all, the difference is less than a cup of coffee.
—————————————————————————————————-
PRAGUE (Reuters) – Czech police are seeking help in an unusual case after a deer turned the tables on hunters and snagged a pursuer's rifle on his antlers before running away.
The deer, frightened by a dog, ran toward one of the hunting party, tore his sleeve and caught a strap of a 0.22 Hornet rifle on his antlers, police said on Tuesday.
"The rifle, which the hunter had slung over his left arm – fortunately without ammo – slipped on the deer's antlers and disappeared with him," the police said.
Police said another hunter later spotted the deer about a kilometre (0.6 miles) away, still carrying the gun.
"The hunters searched the forest but did not find the gun. He had no other choice than to report the incident to the police," the police said, adding anyone who finds the weapon should contact authorities.
—————————————————————————————————-
(FOX) A Minnesota woman removed some bad pears from her refrigerator and left them outside for the squirrels – one of which was captured on home video looking drunk on the fermented fruit.
"The old pears I left out for the squirrels had apparently fermented. Whoops!" she said.
Katy Morlok, who took the video, told Minneapolis-based Fox 9 that the squirrel first ate a little bit, then ran away. But when he came back, he was clearly inebriated. Once she realized what was going on, she took the forbidden fruit away.
Her video shows the critter in an apparent daze, teetering on his hide legs with his front paws in the fruit bowl over the weekend.
The squirrel appears to wobble and sway, his feet steady on a wood block. But his head starts tilting to one side, then snapping to the other.
"Those pears were so old, I bet they fermented," she told the station. "And then he got drunk, and I did not mean to do that. So I went out and I grabbed all the pears."
The squirrel, which she described as a frequent backyard visitor named "Lil Red," appeared to have recovered from his binge the next day.
"In the morning, he came back for his little hangover breakfast and he's been fine ever since," she told the station.
The sugars in fruit can ferment in a refrigerator if exposed to yeast.
Discarded fermented fruit has been linked to similar incidents in the past, including a pack of drunken raccoons spotted in Canada last fall and another pack in West Virginia that authorities initially suspected had rabies – only to discover they'd gotten buzzed on crab apples.
—————————————————————————————————-
Nov. 25 (UPI) — A Canadian man said he was completely unaware that he had won a lottery jackpot of more than $75,000 until he took a big stack of tickets into a store to scan over a month later.
Stan Monkman of Ponoka, Alberta, told Western Canada Lottery Corp. officials he bought a Lotto Max ticket with Extra from the 7-Eleven store in Ponoka in late August, but the Sept. 1 drawing came and went without his checking the numbers.
Monkman said he ended up taking a big stack of unchecked tickets to a local store more than a month and a half later and discovered the Extra add-on to his ticket had matched the last six digits in the drawing, 1-1-7-7-3-7-4, earning him $76,924.
"Well, it took me a little bit by surprise," Monkman said of discovering his jackpot weeks after the drawing.
Monkman said he plans to use some of the money to make upgrades to his home and share some with his children.
—————————————————————————————————-
Nov. 25 (UPI) — A Florida man posted a video showing off his family's most unusual pre-Thanksgiving tradition: thawing out the turkey in their backyard swimming pool.
Mark O'Donnell posted a Facebook Live video showing his family dumping the 16-pound turkey into the swimming pool behind their Clearwater home to thaw out for cooking.
O'Donnell said the turkey's packaging was closely examined for leaks before the thawing process to make sure none of the chlorinated water seeped into the meat. He said the turkey will be removed after spending a day thawing in pool.
O'Donnell said his family has been thawing the Thanksgiving turkey in the pool for 18 years.
—————————————————————————————————-
Nov. 25 (UPI) — Police in Madrid said an officer captured a boa constrictor spotted slithering loose through a neighborhood by surprised residents.
Madrid police said Environment Unit officers responded to the neighborhood in the Calle Jose Calvo area when neighbors reported a large snake slithering through their yards.
The 4.75-foot snake was captured safely and taken to Madrid's Wild Animal Recovery Center.
Police determined the snake had escaped from its owner's home through a window. Investigators are looking into whether the snake's owner had the proper permits to keep the exotic animal as a pet.
—————————————————————————————————-
(CNN) A Texas couple came up with a clever and safe way to be with their grandchildren over the holidays after canceling their traditional, in-person celebrations because of the coronavirus pandemic.
Missy and Barry Buchanan sent life-sized cardboard cutouts of themselves to their daughter in California and their son, who also lives in Texas.
"I just remember thinking, 'you know, I want to do something that'll be funny and unexpected,'" Missy Buchanan told CNN.
They usually spend Thanksgiving in either Texas or California and then the entire family — including their daughter, who lives in Ireland — gets together for Christmas.
Buchanan said big family gatherings don't feel safe this year, so she and her husband decided to stay home.
"Now that we're not going to go, what can we do to make it fun and not make it a sad time, because there's just so much so much sadness and chaos and uncertainty in the world," she remembered thinking.
Health experts have also urged people not to travel and to avoid gathering with their extended families to reduce the risk of spreading the disease.
She told her kids that a large box is on the way, but didn't give away any details that would have spoiled the surprise.
Mindy Whittington told CNN that her mom is always sending them thoughtful packages and gifts for her 3-year-old son, Noah, so she didn't think much about it.
"We weren't really expecting anything that crazy," Whittington said. "We opened it up together and we just could not stop laughing."
Her husband shot video of the moment that showed Noah jumping up and down, giggling and giving his Ama and Poppi a hug.
"It was just nice to have a moment of lightness and laughter in such an intense year and even just to remember that,hey, this is just a year, we're not all in lockdown for life," Whittington said.
She said Noah talks to the cutout, and likes to have it in his room at night when he's ready to go to sleep.
Matthew Buchanan said his children Quintin, 12, Oliver, who turns 10 next week, and Clara, 6, have enjoyed posing for photos with their grandparents cutouts in different spots around the house and out in the yard with their chickens.
He said he and Oliver "basically fell on the floor laughing" when they opened the box and saw Ama and Poppi's smiling faces. They quickly set up the surprise before his wife came home with Quintin and Clara.
"Everybody was sort of confused and laughing, and it was a funny little scene," he said.
Missy Buchanan said she didn't send one to her daughter in Ireland because she didn't really have storage space for a 6-foot-tall photo of her parents.
She said they haven't been able to see Noah since Christmas and her other grandchildren have only been able to make an outdoor porch visit because of the pandemic.
"They haven't been able to give their grandparents a hug since like March," Matthew said.
Missy Buchanan said that Zoom and other technology has helped everyone stay in touch and the family is planning to say the blessing together on Thanksgiving.
She said she's let her kids handle the Thanksgiving cooking for years, but she's going to fix a whole spread including turkey and dressing, green beans, salad sweet potato casserole and pumpkin and pecan pies.
She said she and her husband are going to be eating leftovers for a long time.
"I just think we should be in the mindset of just, trying to make the most positive thing that we can out of it because it doesn't do any good just to complain and be miserable and gripe," Buchanan said. "We can still have fun. It's just going to be a different kind of fun. And knowing that it's not going to last forever, and we all will be back together again, hopefully soon."
—————————————————————————————————-
CHICKASHA, Okla. (KFOR) – The City of Chickasha is known for its 'Festival of Light' display, but now there's hope it will also be known for a giant leg lamp from the holiday classic 'A Christmas Story'.
"I continued to think about what we could do to get people to come to Chickasha," Economic Development Council Treasurer Tim Elliott said. "And make us a destination spot."
After brain storming, Elliott says he came up with a triple-dog dare for the economic development council.
"I set my two-foot leg lamp up on the table, and I said, 'How about a 150-foot leg lamp at the end of Main Street?'" Elliott told News 4. "They all kind of laughed and thought it was funny, but it was an idea."
Little did Elliott know, the iconic lamp has a real connection to Chickasha through OU professor Noland James.
"Nolan kept telling her that he invented the leg lamp. The original leg lamp, that was his idea," Elliott said. "I just blew it off as a very aged man that thinks he invented the leg lamp."
James died in July, and in his obituary, it says he invented the infamous leg lamp.
Legend has it, the original one stood in Noland's office and a man would often stop in to see it. Turns out, a few years later that man worked on the production team for 'A Christmas Story'.
The city says the current 40-foot leg lamp is inflatable, but the Economic Development Council plans to build a larger, permanent structure in the future.
Take a look at the above gallery for photos of the inflatable leg lamp.